Butler University recently received a $500,000 memorial gift from Margery "Midge" Decker '66 and her family in memory of the late John W. Decker II '67 that will provide renovations to two labs in the College of Pharmacy and Health Sciences (COPHS) building this summer. The gift will fully fund the renovation of the Anatomy and Physiology lab and the Pharmacy skills lab to bring both spaces up to date with current technology and equipment and simulate professional healthcare settings. Fixed furniture in the labs will be removed to make the spaces more flexible for mixed-purpose use, with equipment that can be rearranged as needed. Both labs will now be permanently named in honor of John W. Decker II '67.
"Our programs in the College have a strong reputation, and that comes both from dedicated faculty and the students we attract, but there also has to be the physical facilities that match the talent of our faculty and our students," says Bob Soltis, COPHS Dean. "We always have to be reinvesting in physical facilities as much as we are in the faculty and the students, so this renovation is going to be very beneficial. Investing in our facilities continues to be just as important as investing in student scholarships and faculty development, and I'm very grateful for donors like Midge Decker who see the value in that investment."
The Deckers' gift has prompted conversations with other donors about further enhancing the Anatomy and Physiology lab through the addition of another 3D virtual dissection table, which would not have fit in the lab without the renovation—a stroke of fortuitous timing and generosity that will allow significantly more students to have access to this valuable advanced technology.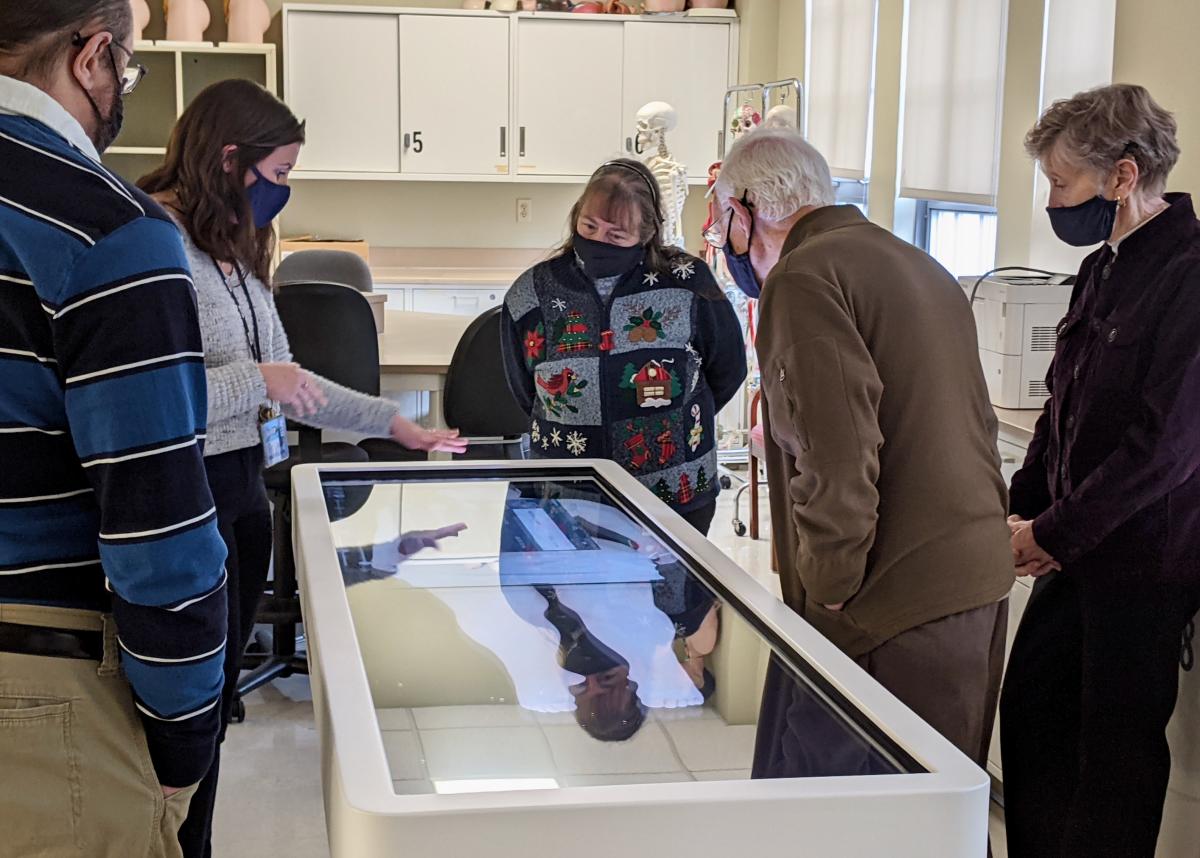 Meanwhile, the Pharmacy lab renovation will allow the space to be used to replicate a hospital pharmacy clean room, a retail pharmacy, and a compounding pharmacy, preparing students with a more realistic vision of what they might encounter in their professional practice.
"Healthcare education in general tends to move fast with adopting new technologies, so it's always a challenge to stay up to date both with the equipment and the physical facilities that simulate either patient encounters in the exam room or what students might see in a hospital pharmacy clean room or in a retail pharmacy," Soltis says. "What this gift has done in terms of impact is renovating those spaces to really make them relevant to the teaching and to the simulation of current professional settings our students will encounter in practice."
Midge and John met at Butler in the 1960s when they were both studying to be pharmacists. After earning their degrees, the couple settled in Huntington, Indiana, where they built a life together, including raising their sons, J.R. and Brad. Along with extensive involvement in the community, they also owned their own independent drugstore, where they worked side by side as pharmacists. After selling the store, Midge and John both continued their work in retail pharmacy in the Huntington area and stayed engaged with Butler by serving as externship coordinators for Pharmacy students completing rotations in the area. One of their sons, J.R., also graduated from Butler with a Pharmacy degree, deepening the family's connection with the Butler Pharmacy program.
John passed away in 2007, and Midge, now retired, moved back to Indianapolis in 2018. She says giving back was always a core value of their marriage and their life together, and they both credited Butler with preparing them for the careers they loved.
"The thought has always been in the back of my mind that I want to contribute to Butler, and with the campus being right in my backyard now, my attention turned more closely to Butler in recent years," Decker says. "My time at Butler was really a good part of my life, and I say it was the springboard for the rest of my life. I'm really glad to be able to give back."
The COPHS building was originally constructed in 1950 and received an addition in 2008-2009. There are no immediate plans for further renovations to the COPHS building, though Soltis has a number of projects in mind when funding becomes available. As the University undergoes a $100 million expansion and renovation of its Sciences complex as part of its Butler Beyond campaign, capital projects like these are designed to advance Butler's strategic initiative to integrate business, science, innovation, and technology, preparing students with workforce-aligned skills for these high job-growth sectors of Indiana's economy.
Decker says she and her family are glad to be able to contribute to a project that will benefit a broad number of students over many years. She says they are especially proud that future Pharmacy students will get to learn in a space that bears John's name.
"That means the world to me, and to my family, because he was my world for 40 years. And the Pharmacy education that Butler gave us really gave us such a great start in life and enabled us to earn this money that we're now able to give back to Butler," Decker says. "It has worked out perfectly with the timing of the new Sciences building, and it's dovetailed in so nicely with what was already going on at Butler. I'm very pleased with how it is all coming together."
Media Contact:
Katie Grieze
Senior Content Manager
kgrieze@butler.edu
260-307-3403 (mobile)