On December 17, 2020, Indianapolis watched as television stations around the city broadcast a small group of healthcare professionals receiving their COVID-19 vaccines. Ascension St. Vincent had selected six staff members—including one nurse who treated the hospital's first COVID-19 patient nine months prior—to receive some of Indiana's first doses.
And on the other side of the syringe was Dr. Kacey Carroll '12, who graduated from Butler University's PharmD program and now serves as an Assistant Professor of Pharmacy Practice for the College of Pharmacy & Health Sciences (COPHS).
"That was probably the most excited and most nervous simultaneously that I have ever been to give a vaccine," Carroll says about that day, when she also had the chance to vaccinate fellow PharmD graduate Vishal Ooka '13. "We were seeing surges in case numbers at the time, and there wasn't a lot of positive news coming out about COVID. So it was very exciting to say, 'Here's something we can actively and proactively do to help our patients, and to help protect us while we serve our patients.'"
Since those first few doses, COPHS faculty, students, and alumni have continued stepping up to administer vaccines at a variety of hospitals, pharmacies, and other vaccination sites across the city—applying their skills to help the community protect itself from COVID-19.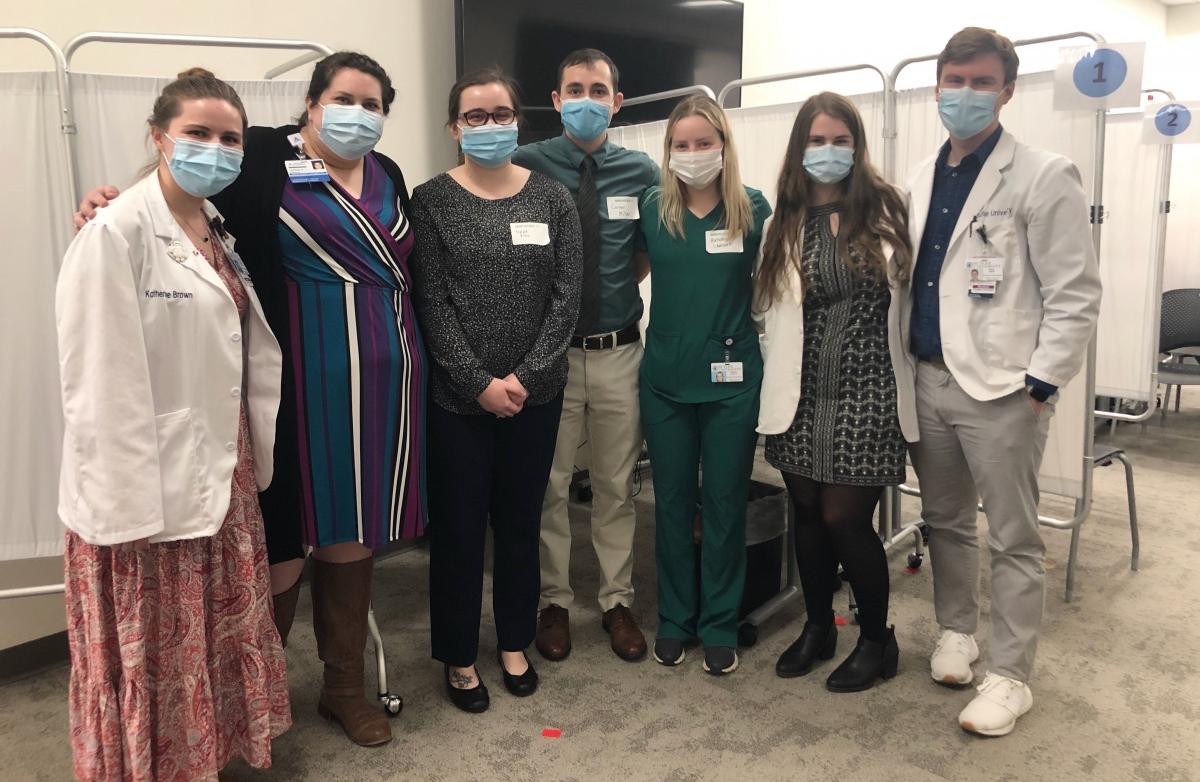 Some Pharmacy Practice faculty members (including Carroll) were already based at St. Vincent part-time, participating in the vaccine clinics as part of their regular positions. Several other vaccine-certified COPHS faculty have also donated time to giving doses.
Carroll was involved in St. Vincent's clinics from the start, helping organize a practice session for certified immunizers prior to the vaccine rollout. In January 2021, she also helped teach an immunization course (hosted by COPHS and the Indiana Pharmacists Alliance) for pharmacists across the state who were not yet certified to give vaccines.
Dr. Deborah Zeitlin '94, an Associate Professor of Pharmacy Practice also based at St. Vincent, regularly teaches immunization courses for students at Butler and has been administering COVID-19 vaccines since January.
"When patients come in," she says, "they are so grateful that they can get the vaccine. It has been very rewarding. It's a great experience professionally to be doing something that people actually appreciate."
Whenever Zeitlin works at the clinics, Butler students are usually there with her.
"I think students are realizing the importance of the training they are receiving in their curriculum, and how to actually apply what they are learning," she says. "It's not only about administering the vaccinations, but also about the types of screening questions they need to ask and what information they need to provide, then what to watch for in terms of side effects or adverse reactions. They are also gaining experience answering questions patients have about the vaccine, and just being there to provide comfort."
Many students in Butler's Pharmacy program take a course to become certified immunizers, so they were already prepared by the time COVID-19 vaccine rollout began in Indiana. Some P4 students on rotation at St. Vincent have been spending half a day each week in the vaccine clinics, administering shots to about 100 people per shift (or working behind the scenes to draw up doses). Many other students have volunteered their time over winter break or on weekends.
While the students already know how to give immunizations before ever touching a syringe of the COVID-19 vaccine, the clinics have provided them with valuable learning opportunities.
"I think this experience helps students understand how to manage a situation like this in the future," Carroll says. "It's also a very gratifying experience to provide a vaccine to a patient who is excited to receive it. Giving students the opportunity to be helpful and to make an impact is so important."
Kimberly Wray, a Butler student in her final year of the PharmD program, says working in the St. Vincent vaccine clinics when they first opened in December gave her the most hope she had felt since the pandemic hit Indiana in March.
"It filled me with so much joy to know I was partaking in what truly is a community effort," she says. "Doctors, nurses, respiratory therapists, pharmacists, physician assistants, and nurse practitioners that had all been living the nightmare that is supporting and treating patients with COVID-19 came in primarily on that first day I vaccinated, and most of them expressed feelings of gratitude, hope, and relief as I worked through the vaccination process. These clinics are a culmination of so many different persons in healthcare coming together for the service of their neighbors, and it is an incredible experience to be utilizing my skills learned in school to serve the community."
Wray says this experience has shown her how essential pharmacists are to the vaccination effort.
"From being knowledgeable about storage, preparation, and administration to being a point of contact at vaccine clinics, pharmacists contribute to a wide variety of roles," she says.
When Butler made doses of the Pfizer vaccine available on campus for students and employees earlier this month, COPHS students led the way in immunizing fellow Bulldogs. More than 240 students (and 45 COPHS alumni) volunteered to help run the first round of Butler vaccine clinics, held April 7–9 in the Efroymson Family Gymnasium.
"Providing such a valuable service to our campus community was certainly the driving principle behind the clinic, which brought so many areas of our campus together for this common goal, and in record time!" says Dr. Angela Ockerman, Associate Professor of Pharmaceutical Sciences and Assistant Dean for Student Affairs. "It was amazing. But what I enjoyed most was seeing everyone work together during the clinics. Faculty and alumni alongside our students from the various programs within COPHS—Pharmacy, PA, and Health Sciences each had their own role to play—all together in service of this institution we love. It was truly heartwarming."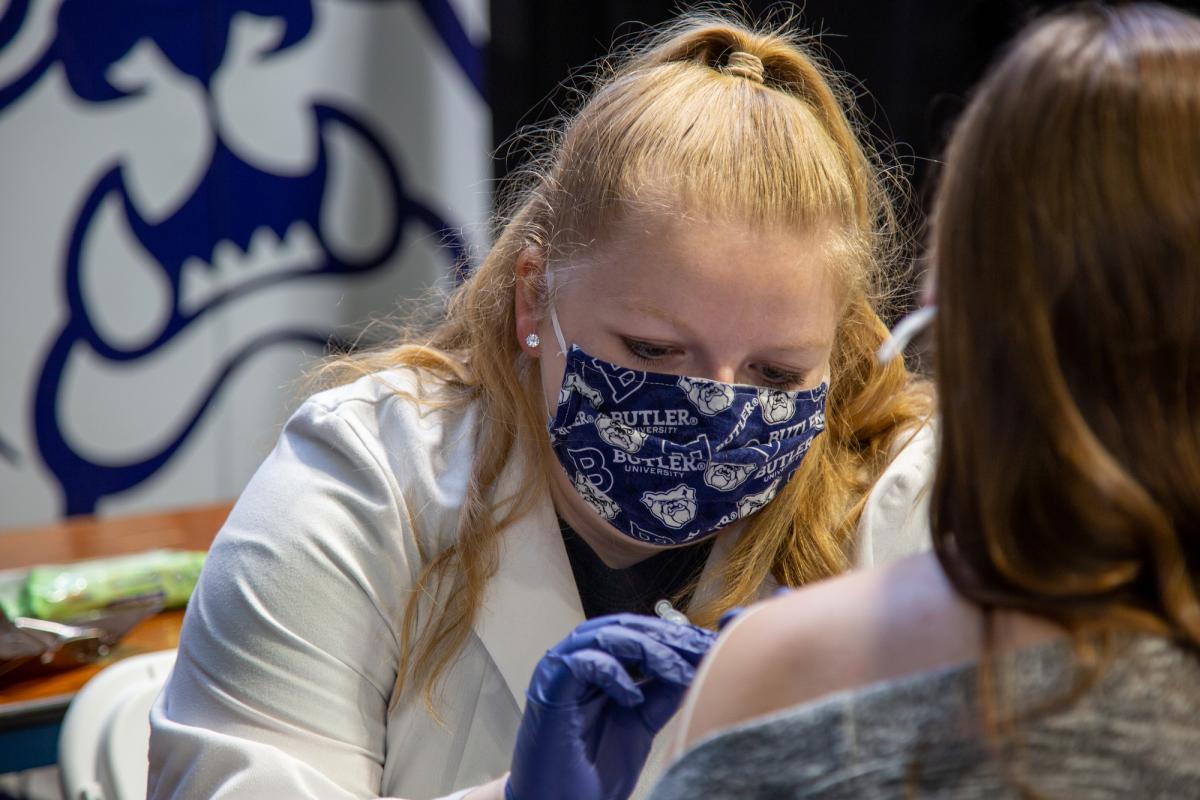 Mandy McDaniel '22, a Pharmacy student who helped at the on-campus clinics, says she felt a great sense of relief and hope when she received her vaccine back in January. She loved having the chance to give that hope to other students, faculty, and staff members.
"The vaccine clinic was a great opportunity for Pharmacy students to use our certifications to give immunizations," she says. "Since I am a P3 student about to go on rotations next month, these clinics also helped myself and others to gain experience and confidence with overall patient care. Some of my favorite moments were when students would tell me that they were feeling a little nervous or were afraid of needles, and I was able to talk them through the vaccination process and calm their nerves. I also enjoyed getting to answer general questions about the vaccine and educate my fellow students. I am so excited for the next round of clinics and for the opportunity to help again!"
Pharmacy student Anis Tai '22 says he volunteered for the Butler clinics out of a sense of responsibility as a future healthcare provider to serve the community, especially during a pandemic. He volunteered a total of 10 hours, providing vaccines for about 50 people, and he says the students he worked with were grateful for the convenience of receiving shots right on campus. Tai has also volunteered at St. Vincent's COVID-19 vaccine clinic.
"The biggest lesson I took away from this experience is the importance of community," he says. "It takes all of us to help overcome this adversity and keep others safe."

Media Contact:
Katie Grieze
Senior Content Manager
kgrieze@butler.edu
260-307-3403